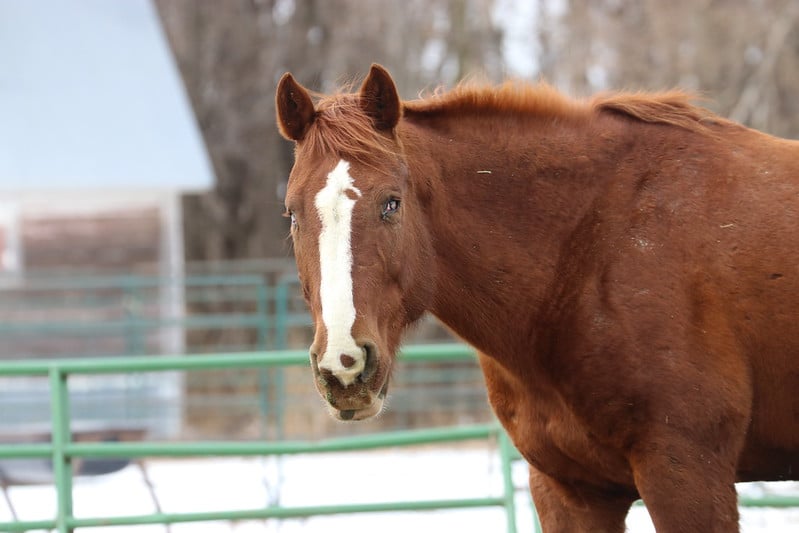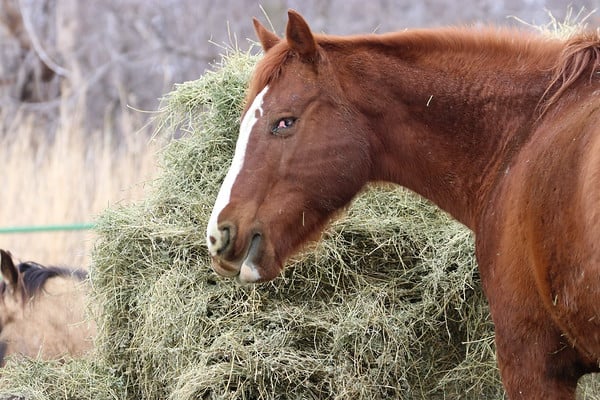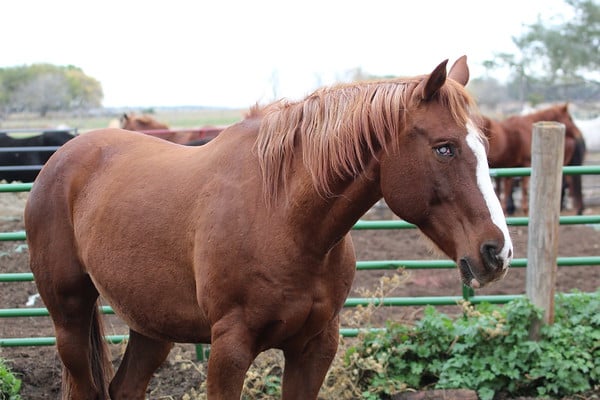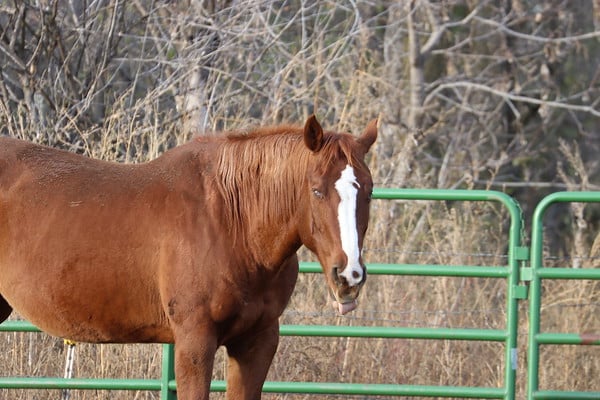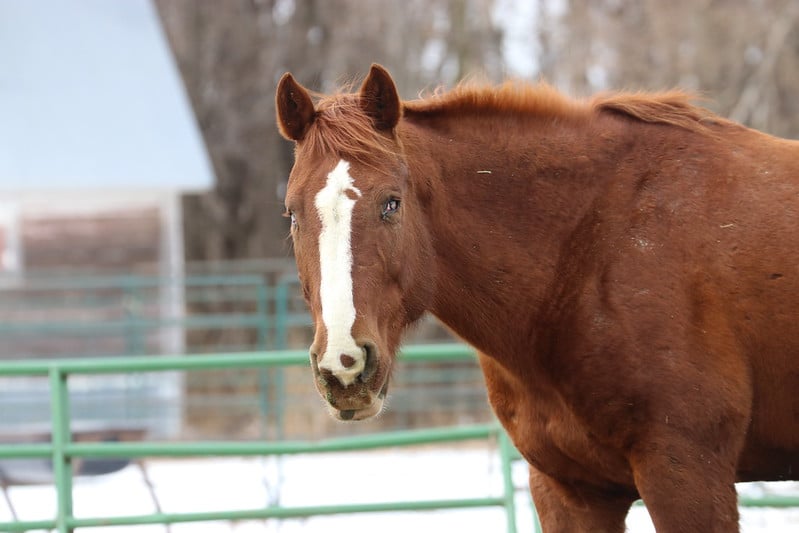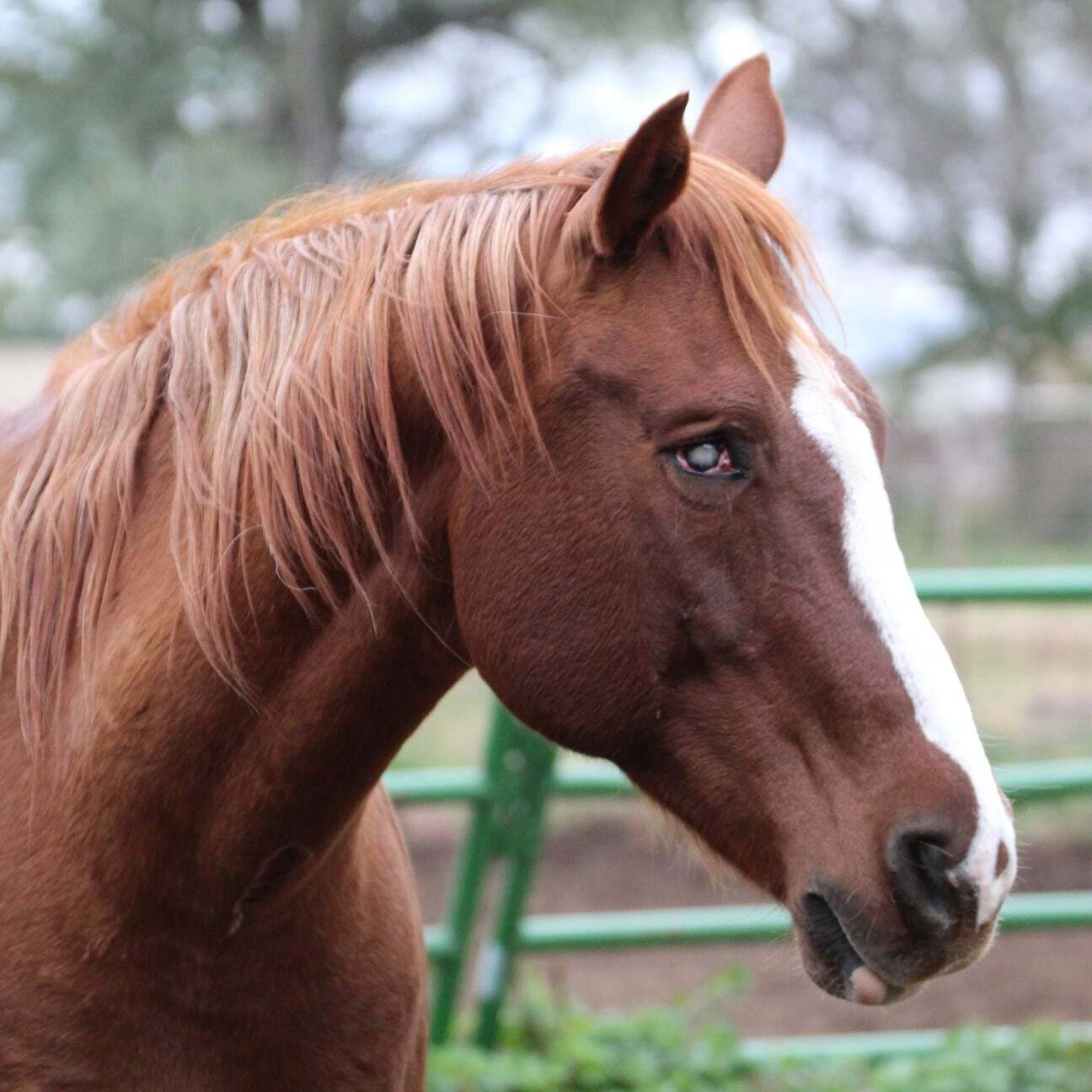 Emma is a beautiful mare from the Sumner 22 rescue. She is blind, and we were originally told she was pregnant, and 7-8 years old. She was in the best shape of all of them, with a body condition score of 4, but very attached to Summer, who was in the worst shape. When Summer took a turn for the worse, they were brought to the Sanctuary together, since Emma was stressed by separation. They are now in foster in South Dakota, and filling out and gaining confidence. Emma is more curious than Summer, and very interested in the other horses at her foster home.
4/20/2012 - vet check! She is NOT pregnant, which is a GREAT thing! She had her teeth floated, got her spring shots, her eyes checked, and was deloused again. The vet aged her at 7-8 years old. She is completely blind on the left, the right eye she can get glimpses of light from the rear. For now this doesn't seem to cause her problems - should it start to make her spooky, we will consider removing the eye. Her eyes are very swollen, almost a glaucoma, and they are shrinking from her blindness, so it's ugly, but not painful. She is more pushy than Summer, but with a little bit of handling settles in nicely, she loads on a trailer very well, and is starting to really fill out (BCS 4+) now that the mares are confident enough to be separated slightly.
Update 5/17/2012: Emma is now living at the Renner Adoptables pasture and is on 24/7 turnout with the other horses. She's navigating our pasture fine, learned the fences and trees quickly, knows where the food and water is, and comes when she's called. We've had her saddled and backed, and she responds to leg and seat cues. We will continue to ride her and teach her voice cues for trails. Additionally, she's so sweet and gentle that she will have a job teaching the younger beginners the basics of horse back riding this summer, until she finds a home. All signs point to Emma being a very safe, calm horse, who should be rideable on easy trails, but especially suited for backyard/arena riding for beginners/children - as long as she has someone she trusts around to help.
Update: 05/29/2012: Emma continues to do well in a mixed pasture environment. She has been ridden out on an easy trail ride around our farm, navigating roads, small hills up and down, and water. She was ridden with a group and did well, even when separated from half the group. We also rode her away from the group and down the road alone and she did well. She listens to and trusts her rider. We will continue to ride her as time permits, and teach her additional voice cues. She will soon start giving rides in an enclosed pen environment to our beginner kids. This girl would be a lovely horse for anyone looking for a quiet trail mount - but only on easy trails, with small hills - no Black Hills riding for a blind horse! Also good for a backyard "grandkid" horse, that you can put your grandkids on and as long as they have the basics of steering and know not to steer her into anything like trees, she'll take care of them and ride all over.
Want to Sponsor
Emma

?

Your donations allow us to provide horses like Emma a safe home for the rest of your life. Consider a monthly donation to help cover Emma's care.