Love for all living beings is the noblest quality of man.
- Charles Darwin
Gentle Spirit Horses Rescue is an open door horse rescue. We do not ever turn away an equine regardless of condition, age or location. We also accept surrenders of horses needing end-of-life services if they have reached the end of their natural life or are having quality of life issues.
Surrendering your horse can be a difficult decision, but it is a compassionate and selfless act that can make a world of difference for your equine companion and others in need. By doing so, you are providing your horse with the opportunity to receive the care and attention it needs, especially if you are no longer able to provide for them, and giving your horse its best chance at safety and staying out of the slaughter and auction pipeline.
Thank you for trusting us with your horse - we are here to help!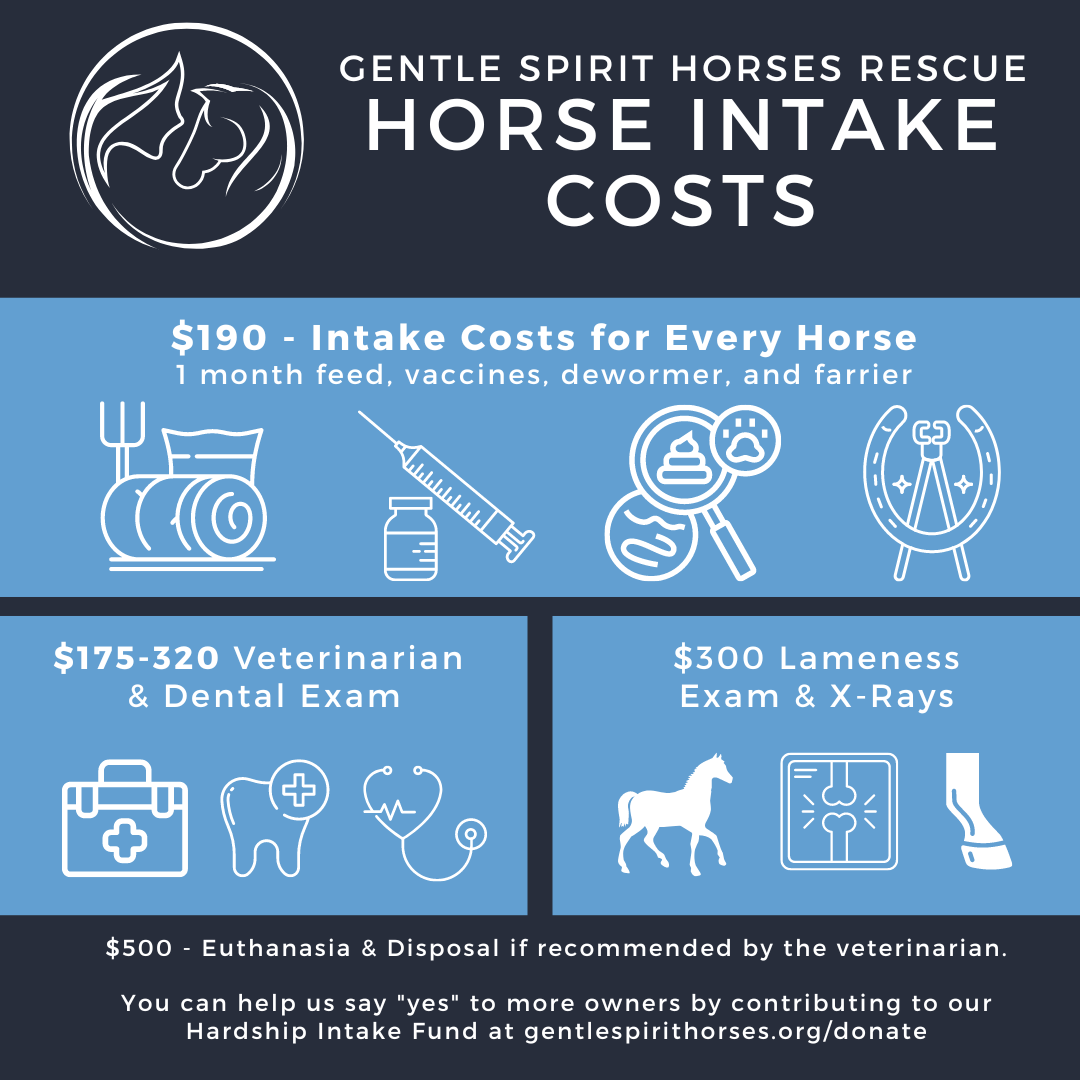 SURRENDER PROCESS & FEE
Gentle Spirit Horses is an open door Full Circle of Life rescue, meaning we will accept any horse regardless of the horses' age or condition. We do request an intake fee of $500. This is not a required fee, but is suggested. This intake fee helps cover the initial intake and first month costs for your horse.
Horses with an intake fee can be accepted into our program immediately. If you cannot pay the fee, we will still accept your horse as space and funds allow. Your horse may be placed on a waiting list and we will notify you as soon as space is available.
Your horse will be evaluated by our team on intake. If needed, your horse will then be evaluated by our veterinarian which may include x-rays, a dental exam and float, and other services and a rehabilitation plan will be put in place. If euthanasia is recommended by our veterinarians for an unmanageable or untreatable condition with a poor prognosis for a pain-free life, the horse will receive end-of-life services.
TRANSPORTATION OF THE HORSE
Once you have been approved for intake, you can schedule delivery of your horse to our location at any time. If you need transportation assistance and volunteers are available, we can pickup your horse for $2 a loaded mile, however our availability is extremely limited and transportation help cannot be guaranteed. Horses coming from outside of South Dakota, except from North Dakota, require a negative Coggins and a valid health certificate.
Help Us Say Yes
Hardship Intake Fund
You can help us say "yes" to more owners by contributing to our Hardship Intake Fund. This fund allows us to waive the intake fee for families in crisis and provide immediate help.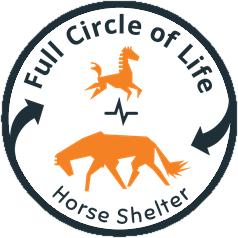 Q. What is a "Full Circle of Life" Horse Shelter?
A Full Circle of Life Horse Shelter takes in any horse regardless of its health, temperament, old age, sickness, or adoptability. The term was first coined by Horse Plus Humane Society in Tennessee, and we have attended their FCOL workshop.
Q. Why do you charge an intake fee?
Unfortunately, horses are very expensive animals to provide care for. Most of the requests we get for intake will require significant veterinary costs in addition to the standard costs that every horse needs. Horses often require a longer period of time at the Shelter to find their home, which increases costs, and adoption fees rarely even cover the general costs. We are dependent on donations to provide help.
We recognize that in a crisis, some families can't afford an intake fee, and we can make hardship exceptions on a case by case basis.
Q. If my horse is added to a waiting list, what can I expect?
We make every effort to bring in owner surrender horses as soon as there is funding and space available. When there are openings our intake team will reach out and see if you still need assistance, and start the process of bringing in your horse.
Unfortunately, it is difficult to predict how long the wait will be, but we make every effort to keep it reasonable. You can speed up the process by fundraising to cover the first-month cost of care for your horse.
Q. What if a horse isn't adoptable? Do you euthanize for space?
Horses have never been euthanized for space at Gentle Spirit Horses, and we have no intention of starting that now. Our Pasture Pal companion adoption program has been very successful, and as such we rarely consider a horse unadoptable. On the rare occasion a horse is not adoptable, we maintain a small Sanctuary program and partnerships with other Sanctuaries to provide a home.