Get Involved - Volunteer!
"Volunteers are the only human beings on the face of the earth who reflect this nation's compassion, unselfish caring, patience, and just plain loving one another."
- Erma Bombeck
Interested in being part of the GSH Team? Volunteers make it possible to help so much more! There are many opportunities to volunteer, from cleaning paddocks and grooming, to being a part of the feeding team, to helping with grounds work, fencing and equipment maintenance, or helping with administrative, fundraising and online tasks. Qualified volunteers can be part of our riding and training team, or help with medical needs. There is truly something for everyone - no matter your location or physical ability. We would love to have you be part of our team!
Join the Team
Volunteer Opportunities
The Feeding Team is responsible for one of the most important jobs at GSH - making sure our horses are fed. Though we feed round bales and have automatic waterers for the majority of the horses, we have several horses who require senior feed or other grains twice a day. Horses on stall rest or in small pens require twice a day feeding and watering. Feeders also maintain the daily count and checks, ensure that the automatic waterers are working, and keep track of when round bales need to be replenished. Feeding Team members who know how to drive the tractor are able to put new round bales in.
Duties

AM Shift: 5-10 am; PM Shift: 5 - 9 pm. Feeding takes between 1-1.5 hours
Distribute correct quantities of hay and grain and medications for each horse as instructed.
Ensure that all horses have water
Monitor all horses' health and well-being.
Note any health or safety issues and report them immediately.

Qualifications

Must be able to volunteer at least one shift every other week, preferably every week
High degree of reliability and own mode of transportation
Ability to accurately measure and mix feed, supplements, and medications as instructed.
Involves lifting heavy weight (50 pound bags of grain, 60+ pound bales of hay)
Experience working around horses is helpful, but not required.
Barn Chores & Grooming Team
The barn chore team takes care of all the little things that are easily overlooked - keeping the facility clean and in good working order. Jobs include cleaning feed and water buckets, cleaning stalls and picking paddocks, general barn organization and cleaning, and assisting with special projects as needed.
This team is the most flexible and offers even the least experienced people horse time while cleaning paddocks, and is where the majority of our volunteers start. We ask that Barn Chores team commit to at least one 2-3 hour shift every two weeks. At least one barn chore must be completed on every visit to earn grooming time.
Administration & Fundraising Team
The Administrative & Fundraising Team keeps the rescue running! Members of this team assist the Executive Director with office tasks such as filing, data entry, thank you notes, phone calls, and emails. The team also assists in all fundraising activities and events, and helps to maintain our various online resources. There are many remote opportunities available. On-site shifts are available on evenings and weekends when the Director does not have to cover Feeding or Barn Chores.
The Outreach & Bug Club Team is the public facing team for GSH. Members of this team help organize all public events, including Bug Club activities, Adoption Meet & Greets, the GSH Show Team, and any other events that are open to the public. This team also helps maintain the Leg Up Community Support program and organizes assistance for horses in need.
This team is responsible for the training of the horses to get them ready for adoptive homes. All volunteers who wish to handle horses beyond grooming must participate in our Forever Foundation video training program which will determine which horses and training activities may be completed. Training team members are expected to commit to at least one training day and one feeding or barn chores day per week (can be completed on the same day).
Building, grounds, and fence upkeep: This team helps with projects such as ongoing fence repair, dragging/spraying/seeding horse pastures, horse shelter and barn repair, manure spreading and/or hauling, building of additional horse pens and pastures, and more.
Gardening: Projects include weeding, planting flowers, watering trees, and mowing. Donations of plants and flowers are always welcome! This can be a great activity for large work groups that are looking for a day-long project.
Light and heavy vehicle maintenance: We utilize a number of vehicles for a variety of daily activities. We are looking for people with mechanical backgrounds who can help maintain our trucks, tractor, and horse trailers.
The Farrier Team is responsible for all aspects of our once a month farrier day. This includes catching horses, holding horses for trims, and turning horses back out to their paddocks. Farrier team members need to commit to one day per month, usually the last Saturday of the month, and at least 10 months of the year.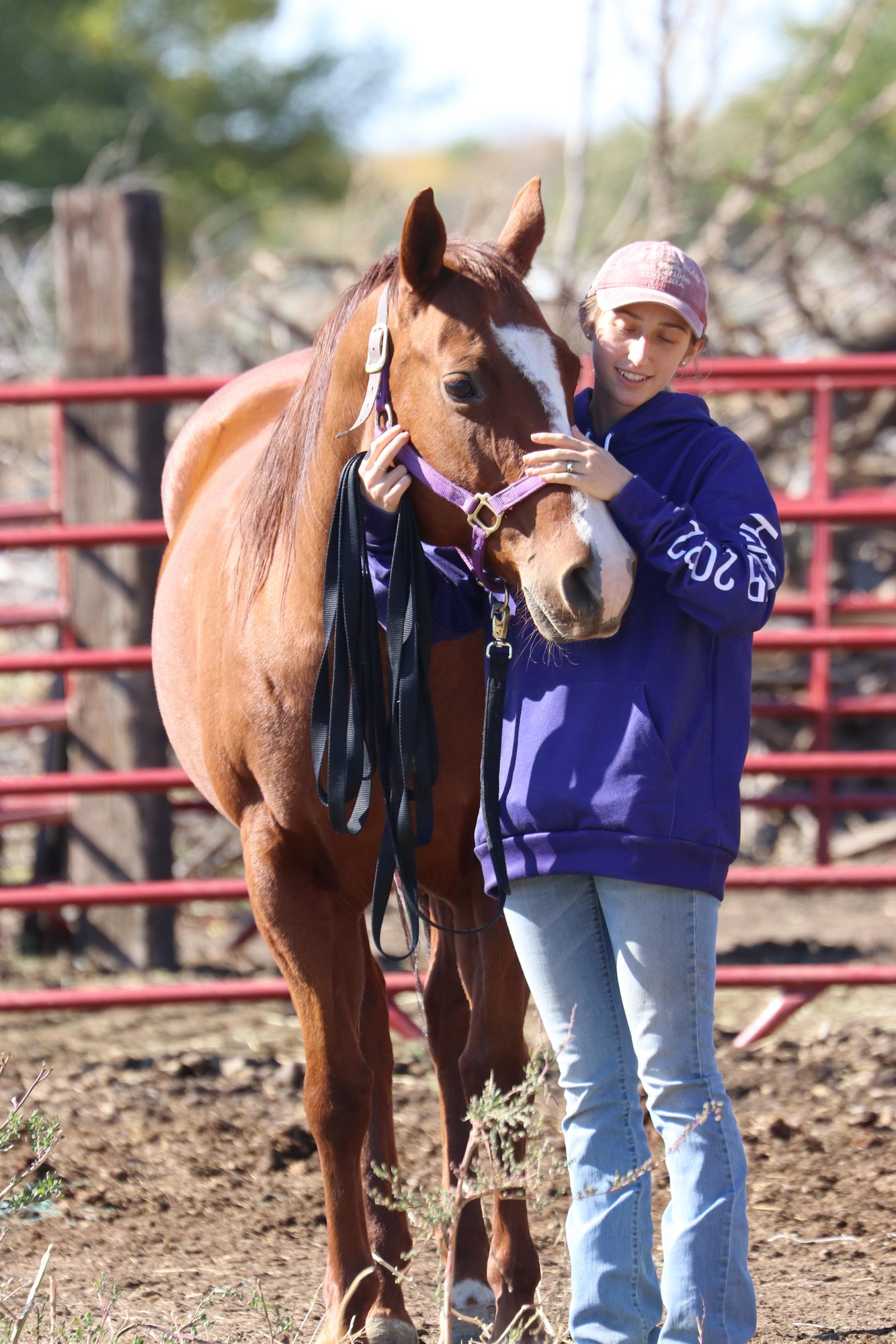 We accept volunteers of all experience levels. Volunteers must be at least 14 years of age to volunteer without a parent or other responsible adult. A signed volunteer application and waiver from a parent or guardian is required for volunteers under 18 years of age. You should be able to drive and have reliable transportation.
How frequently do I need to volunteer?
We ask our volunteers to commit to a minimum of 1 volunteer shift (2-3 hours) every two weeks, preferably a weekday morning or evening, and a minimum commitment of 3 months. If you are unable to commit to either of these, please contact us to discuss options.
What if I can't commit to that time?
We do hold a Volunteer Orientation and Open Barn Day monthly. We typically schedule group projects and tours, as well as tackle cleaning paddocks and pens during this time period. There is no grooming, handling, or horse time on these days, except that horses asking for attention in the paddocks you are cleaning should be given attention in the form of scratches and petting.
Can I just drop in randomly and help?
We do ask that initial volunteer times be scheduled. Everyone involved with GSH administration works full-time jobs. To ensure that the horses receive the best care and handling they can, we ask that all volunteer time be pre-approved.
I have some physical limitations, or I don't live nearby, can I still volunteer?
Yes, there are things that anyone can do from anywhere. However, feeding and barn chore help does require that at least one person be able to lift at least 50 pounds, such as lift a bag of feed, a square bale of hay, or push a heavy wheelbarrow. We can definitely help find chores that will accommodate nearly everyone, however!
Can I just be a riding volunteer? I just want to come ride horses.
No. GSH is about the horses, first and foremost. This means their basic needs must be met first, and that includes feeding, cleaning paddocks, and helping maintain the property. Additionally, all volunteers must show reliability, consistency, and complete the ground work portions of our training program prior to being considered as a riding volunteer. If you are a professional horse trainer who wishes to donate training time, please contact us separately to discuss
I'd like to bring my children out to introduce them to horses. Can I?
Children are welcome to come along and volunteer with you, however volunteering is about taking care of the horses, not just riding. We recommend children join our Bug Club, which is an educational Hands-On program that works with several GSH horses.
Non-Discrimination: Gentle Spirit Horses does not and shall not discriminate on the basis of race, color, religion (creed), gender, gender expression, age, national origin (ancestry), disability, marital status, sexual orientation, or military status, in any of its activities or operations. These activities include, but are not limited to, hiring and firing of staff, selection of volunteers and vendors, and provision of services. We are committed to providing an inclusive and welcoming environment for all members of our staff, clients, volunteers, subcontractors, vendors, and clients.